Basement Wiring Code Compliance: A Comprehensive Guide (part 2)
In the first part of this article, I explained the importance of basement wiring code compliance and how to inspect some basement areas. Next, I will explain how to examine other parts of the basement to ensure its electrical safety.
Bathroom
A ground fault circuit interrupter (GFCI) must be present in all bathrooms. GFCIs protect us from electric shock from malfunctioning the electrical devices we use at home. This tool compares the hot side's input current with the neutral side's output current. A GFCI is required within 1.5 meters of the water source. If water gets into the outlet, it cuts off the power to the outlet so that the outlet cannot be used.
If your home doesn't have a GFCI, it may have been built before the ESA code was created, which means that you must include the appliance and no modification is required. However, installing a GFCI in all bathrooms is strongly recommended for safety.
Please note that not all bathroom outlets require a GFCI outlet. If all outlets are on the same circuit, you only need one GFCI-rated outlet. That GFCI-rated receptacle protects all other outlets.
Here is some other required bathroom codes compliance:
Towel warmer: If you have a towel warmer, check the manufacturer's recommendations to determine if it should be on a dedicated circuit.
Radiant floor heating: This piece is like a towel heater and requires the same review. It is also an ESA requirement to have a permit and inspection whenever the radiant floor heating system is installed. The landlord may have yet to install the thermal sensor on the floor in the house. The floor continues to heat without the sensor turning off at a specific temperature. The owner of the house passes out on the bathroom floor. His burns can be so severe that he loses his life. You should not take this lightly. If installing a radiant floor heating system yourself, ensure you are ESA approved.
Whirlpool tubs or air jets must be on a dedicated circuit
No plugs or switches should be close enough to be touched while standing in the tub or shower.
Laundry
There are some basic codes required in a laundry room. It would be best to have a dedicated line for the washing machine and another for the dryer. A dedicated line means that only one item is in that circuit. If you do panel labelling, you can determine what each essential controls and therefore know if there is more than one item on the course that needs to be assigned.
Kitchen
Your kitchen should have a particular receptacle for the following:
Refrigerator
Microwave
Dishwasher
Garburator
Island
Freezer
Wine refrigerators
It would help to have a dedicated counter pan for every 3 inches of usable counter space. If your home is older, it was not part of the ESA guidelines at the time and will be awarded as a result. However, to be safe, I strongly recommend installing at least three receptacles at counter height if you don't have one.
Some additional items to check in your kitchen:
Check your stove hood's installation manual to see if it should be a dedicated circuit.
There should not be any receptacles inside the closets or cabinets.
There must be a GFCI within 1.5 meters of the sink. If not, you can't replace your regular receptacle with a GFCI. It should be a Tslot socket which requires a heavier cable that needs to go back to the power panel. It's best to leave it to a licensed electrical contractor (LEC), like KCS Group's certified technicians, to ensure the safety of your home.
We also often see problems when homeowners replace kitchen counter pans and need to realize they have plugs. Split outlets separate the top and bottom plugs, so 15 amps go to each. There is a tab that needs to be removed from the plug. Failure to do so may blow one or both fuses/breakers attached to it.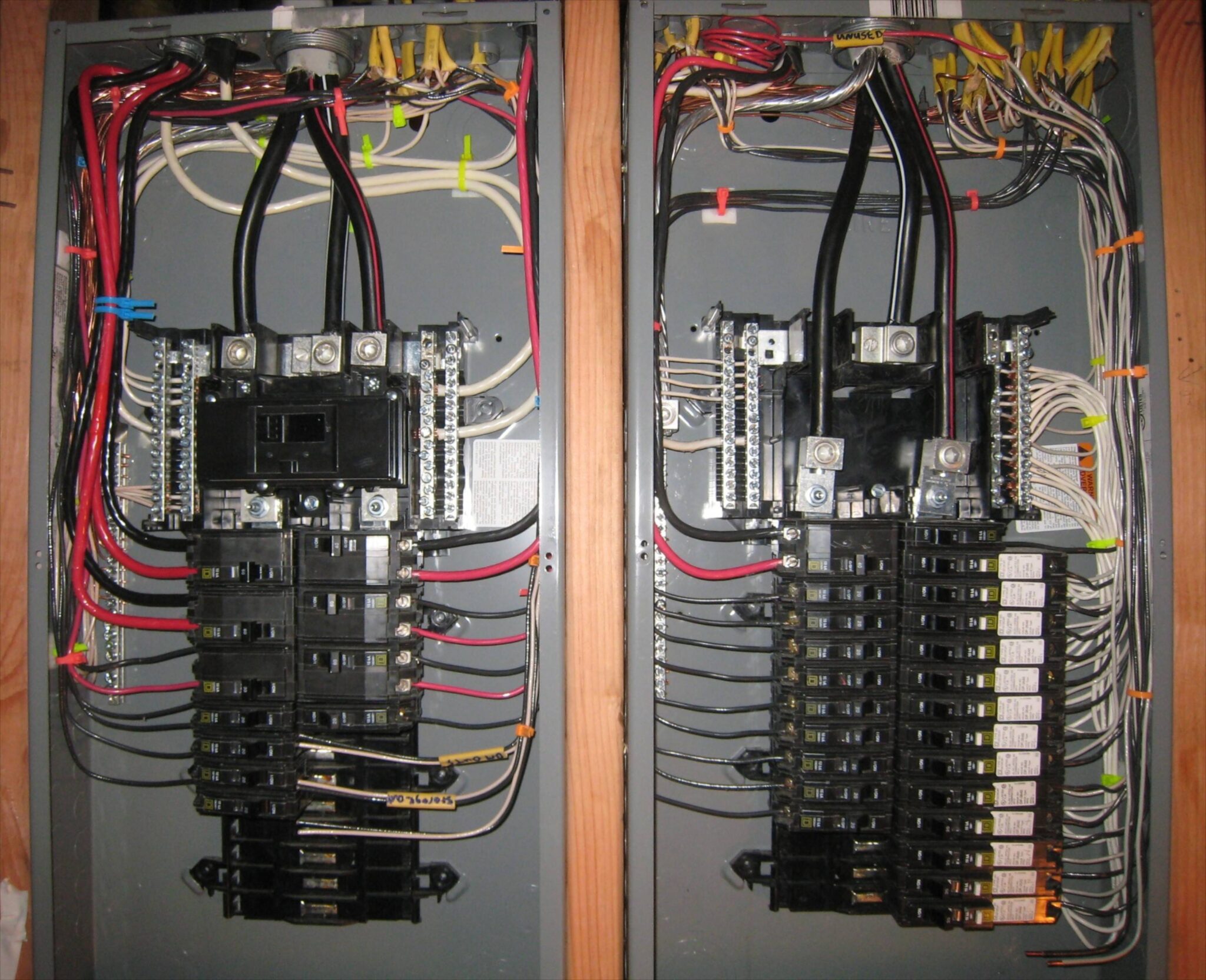 Electrical panel in basement wiring code compliance
It's best to consult with KCS Group to inspect your panel thoroughly, but you can look for a few simple things independently. It includes the sides, top or bottom, or on the surface where the fuses/breakers are. Check to make sure there are no holes visible anywhere.
Look for double tapping inside the panel. Double tapping is where two wires are under one terminal on a circuit breaker or fuse. There should be only one wire per breaker. To do this, you need to disconnect the power to the panel and use a screwdriver to remove the cover from the panel so you can see the fuses/breakers underneath.
While the panel cover is off, look for excess welding. Again, I recommend consulting a LEC for this, but here are some things to look for:
Fifteen amps for most lights and outlets; 30 amps for the dryer; 40 amps for the gas stove; 20 amps for the cooler; 15 or 20 amps for the hot water tank; 15 or 20 amps pool; Jacuzzi 40-60 amps.
The building exterior
Here are some tips for checking your home's exterior:
All external outlets must be GFCI protected. All of them should have waterproof covers or be in use.
The lights should be firmly attached to the wall
Garage door openers should each have their receptacle. Do not use wiring to connect the garage door opener.
Connection wires are temporary and should never be used to connect freezers and fluorescent lights in garages, workshops or basements.
Who can do the electrical installation to meet basement wiring code compliance?
A single-family homeowner who lives in the home (you can't wire a house you don't live in)
I strongly recommend that homeowners without basic knowledge of electrical wiring hire a qualified (licensed) electrical contractor.
Considering the existing risk, the electrical inspection department recommends the electrical contractor do the following:
Installing the pool ground and connecting the pool's electrical equipment or
Installing or making changes to primary electrical services.
A senior electrician from KCS Group for all other types of installations, including:
Work with more than 100 amps
Work in commercial/industrial property (including leased space);
Work performed at a residence where the owner is not eligible to apply because they intend to reside elsewhere.
Work done in residence with party walls (duplex, apartment, etc.).