Build a Strong Foundation for Home Automation with Pre-Wiring
You may create a room that works for your family and has the aesthetic appeal you desire.
Certain components of construction, such as painting, flooring, kitchen and bathroom tiles, and other aesthetic features, can wait until the walls are up.
However, if you want a smart home in northeast Wisconsin, building pre-wiring is essential.
The key to a successful smart home, like all other areas of the construction process, is planning.
New Construction Wiring
It's weird if your new house doesn't have plumbing. What if it was not connected to the power grid? Consider the time and cost of plumbing or wiring a home that has already been built.
Most people are unaware of the wiring required to build a house. A smart home is no different.
Having a solid foundation for pre-wiring a home automation system that includes security, networking, and AV is critical.
If you're building a new home, now is the time to set up smart home automation, whether you want it now or later.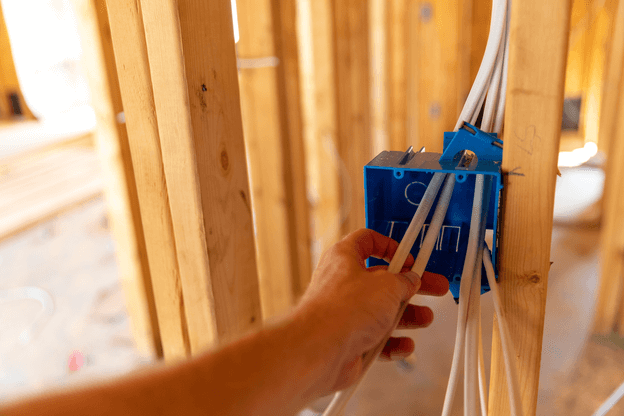 New house wiring
You can call smart houses, which make life easier for people by providing new facilities, so there are many applicants for them today. Due to this increase in demand, training on the ability to implement these systems and learning how to wire a smart home are among the activities in high demand today.
Does the use of a smart home change the usual home wiring?
Depending on the type of intelligent system used in the building, you can use conventional wiring. In most cases, you can use traditional wiring in PLC-based systems, but in modular systems, the wiring method is different.
The KCS Group Service
If you plan to build your new smart home in Greater Toronto and use its facilities, comfort, and safety, consult the KCS Group. Our experts will help you own a smart home at the lowest cost and shortest time. Contact us today.
PROFESSIONAL HELP, WHEN YOU NEED IT MOST!
our commitment to round-the-clock service includes these areas as well. If you're a property manager with business or residential properties spread across multiple municipalities, you can still rely on the pros you know at KCS Group on short notice. That includes midnight calls and weekends.
We take all safety measures based on existing standards so that your workplace and home are safe. We guarantee your devices will always be on using quality equipment, cables, and proper and safe wiring.
No matter the time of day or night, our electricians are available. Our commitment to meeting our clients' needs never wavers. This means that when you reach out at 3:00 AM with an electrical emergency, one of our licensed electricians can be onsite within a few hours.